LXD Weekly Status #28
Share or save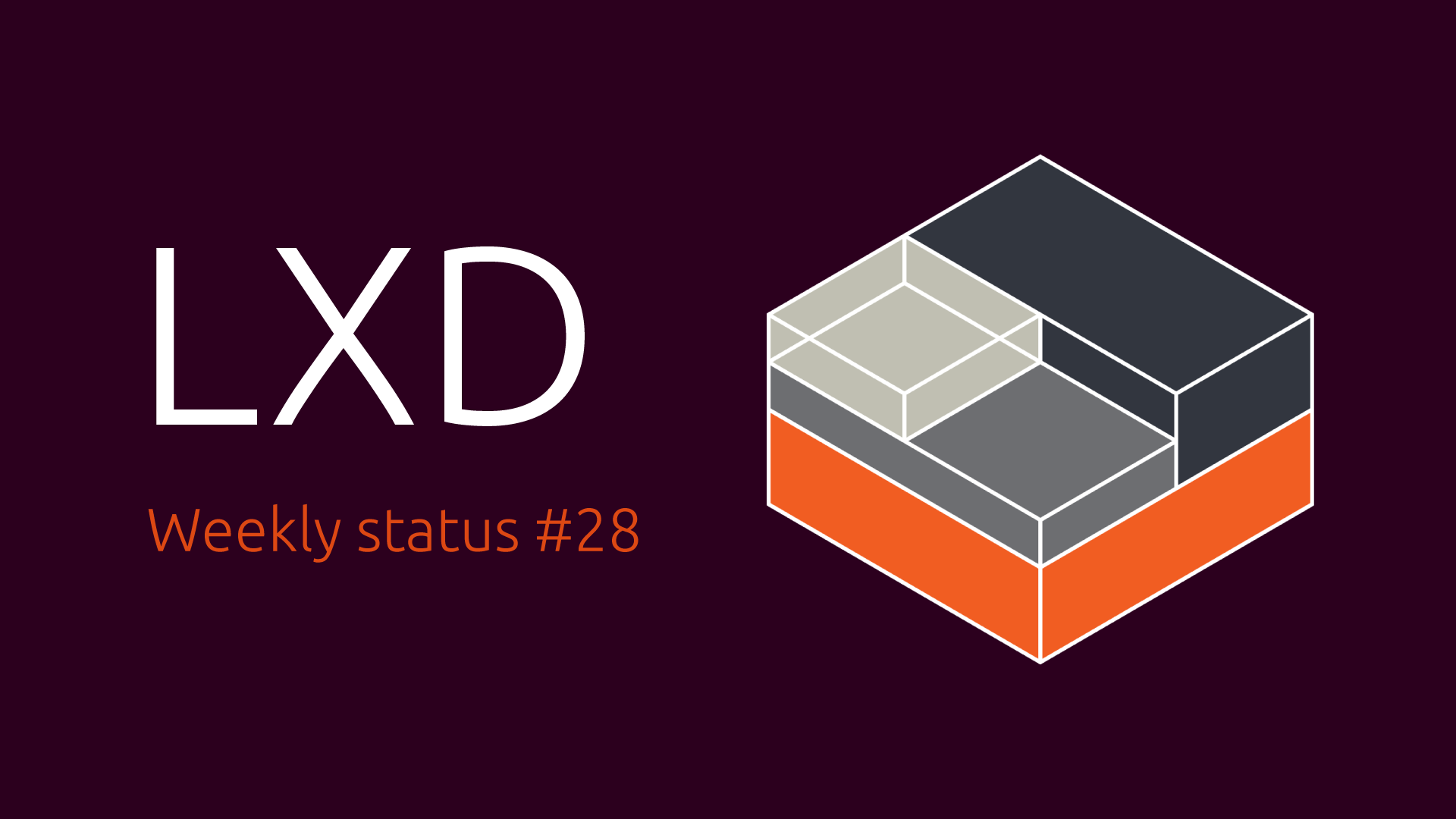 Introduction
This is our last status update before we break for the holidays.
On the LXD side of things, this past week saw the inclusion of a couple of minor features (--all flag and boot.stop.priority option) and quite a few bugfixes.
In low level LXC, a lot of changes have been going on to improve handling of application containers, including namespace sharing, improved hook handling, improved CRIU integration and new configuration keys to configure container sysctl keys and the out of memory killer.
LXD 2.21 is schedule to be tagged tomorrow and we expect it to roll-out to most users before the end of year. This should be a pretty exciting release!
We'd also like to remind our PPA users that they need to switch to the LXD snap or to one of the in-archive LXD backports as we'll be removing the LXD PPAs at the end of the year.
Upcoming conferences and events
Ongoing projects
The list below is feature or refactoring work which will span several weeks/months and can't be tied directly to a single Github issue or pull request.
MAAS network integration in LXD
Stable release work for LXC, LXCFS and LXD
Upstream changes
The items listed below are highlights of the work which happened upstream over the past week and which will be included in the next release.
LXD
LXC
LXCFS
Nothing to report this week
Distribution work
This section is used to track the work done in downstream Linux distributions to ship the latest LXC, LXD and LXCFS as well as work to get various software to work properly inside containers.
Ubuntu
LXD 2.0.11 has been made available to all Ubuntu 14.04 LTS and 16.04 LTS users.
Snap
Nothing to report this week
About the author
Stéphane Graber is the technical lead for LXD at Canonical Ltd. He is the upstream project leader of LXC and LXD and is deeply involved in the container world. Stéphane has been involved with Ubuntu for years and currently sits on the Ubuntu Technical Board and Ubuntu Developer Membership board. He is a member of the Ubuntu Release team as well as an Ubuntu Archive administrator and Ubuntu Stable Release team member. Outside of his work on containers, Stéphane also has very strong networking knowledge as the former maintainer of the Ubuntu networking stack and large scale system administration knowledge from previous jobs. Stéphane is one of the organizers of the Containers mini-summit during the Linux Plumbers Conference, a regular presenter at LinuxCon and has been involved in many other Ubuntu and container specific events and hackfests.